Horses in Public Service – A Success Story

Please click on the image above for a larger image.
Photos Courtesy of Robert Wiemer
Las Vegas has always been a magical city – reputed though out the world for its glittering, glamorous image, its neon lights, its spectacular entertainment, and for fortunes won and lost. Indeed, its very existence in the midst of the desert hundreds of miles from anywhere can be seen as a magical feat of its own.
Among the billion dollar hotels, the tangle of traffic and the jostling tourists on the Las Vegas Strip, can be found a very special sort of magic that, for most goes unrecognized: two amazing horses of the Las Vegas Metro Police Mounted Unit. Unlike the other horses of mounted units throughout the country, these horses, Gunsmoke and Buckshot, once lived free-in-the-wild and were specifically selected, gentled, and partially trained by AWHA volunteers.
Their story began almost by accident. In 2004, the Las Vegas Metro Mounted Unit held a friendly competition for local horse owners, and were astounded to learn that first, second, and fifth place winners were all wild horses. When asked why the Mounted Unit did not currently use wild horses, it was found that the only reason was their size. Most wild horses are smaller than their larger, more intimidating domestic cousins. Rising to the challenge, AWHA set out to find two suitable horses.
Two candidates were found at the BLM's holding facility in Ridgecrest, California. In addition to necessary size, both horses had the correct temperament, mentality, and were eager to please. However they were terribly out of shape due to two years of inactivity at the facility.
While both horses looked promising, they were sent for assessment by two expert trainers. The reports were increasingly encouraging for both horsing, and the Metro was excited about the prospects. The unit was short two horses and everyone was certain both horses would be ready in time.
Following an additional training period with the Metro Unit, both Gunsmoke and Buckshot made an impressive debut amidst several hundred-thousand revelers on the Las Vegas Strip of New Years Eve, 2006.
These two wild horses have initiated a new program for AWHA: the placement of wild horses in public service.
Our newest Candidates
Originally captured in the Tule Lake area of Northern California in August 2006, these two strong and proud animals spent eleven months in a holding pen in Susanville, CA. Several months after a call went out from AWHA requesting two new candidates for our Mounted Unit, these horses were evaluated and chosen by expert trainers, based on their appropriate size, temperament, and mentality.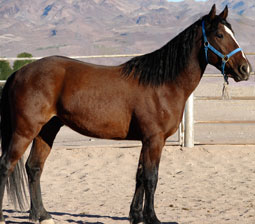 Taser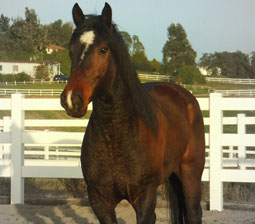 Bullet
The successful placement of wild horses into public service programs depends on choosing the appropriate candidates, and providing the proper evaluation, gentling, training and maintenance, along with other support services including transportation and health care. All of the necessary equipment and expertise to implement this process must be funded through donations, grants, and memberships.

AWHA's Scholarships for Horses will help ensure that this program will continue. Our wild horses, whether on the range or in public service, are living treasurers that we must not lose. Please help us keep the program growing through your financial support.